In honor of Halloween and being home all day after Hurricane Sandy, we spent some time in the kitchen making scary Halloween snacks. Here are some of the best healthy ideas I found:

Great-looking spider deviled eggs

Caprese salad eye-ball monsters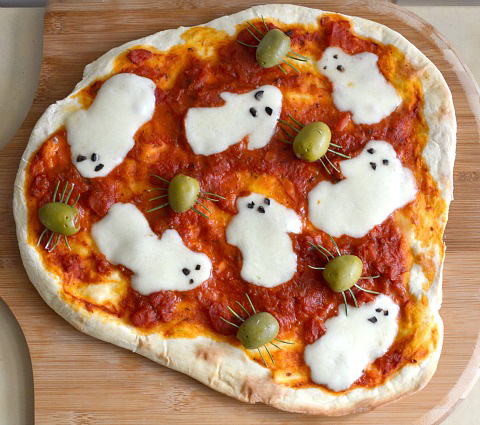 Ghost pizza

Halloween quesadillas

Cut-out cheese and crackers

Banana ghosts and Mummy dogs
So far we have tried:
Ghost sandwich cut-outs (cute idea but my kids aren't really sandwich eaters)
Banana ghosts with chocolate chip eyes (my 8 year old preferred the eyes to the banana, but my 4 year old loved them!)

Bats made from cheese slices (using a cookie cutter) with spinach leaves on whole wheat crackers (also a hit with the 4 year old!)
Jack-o-lantern quesadillas (a big hit for everyone!)

Mummified hot dogs made with organic crescent roll dough and nitrate free hotdogs (they both loved making them and eating them!)
I attempted some witches cut out of beet slices, but even witch-shaped, kids do not seem to be a fan of beets.
Enjoy!